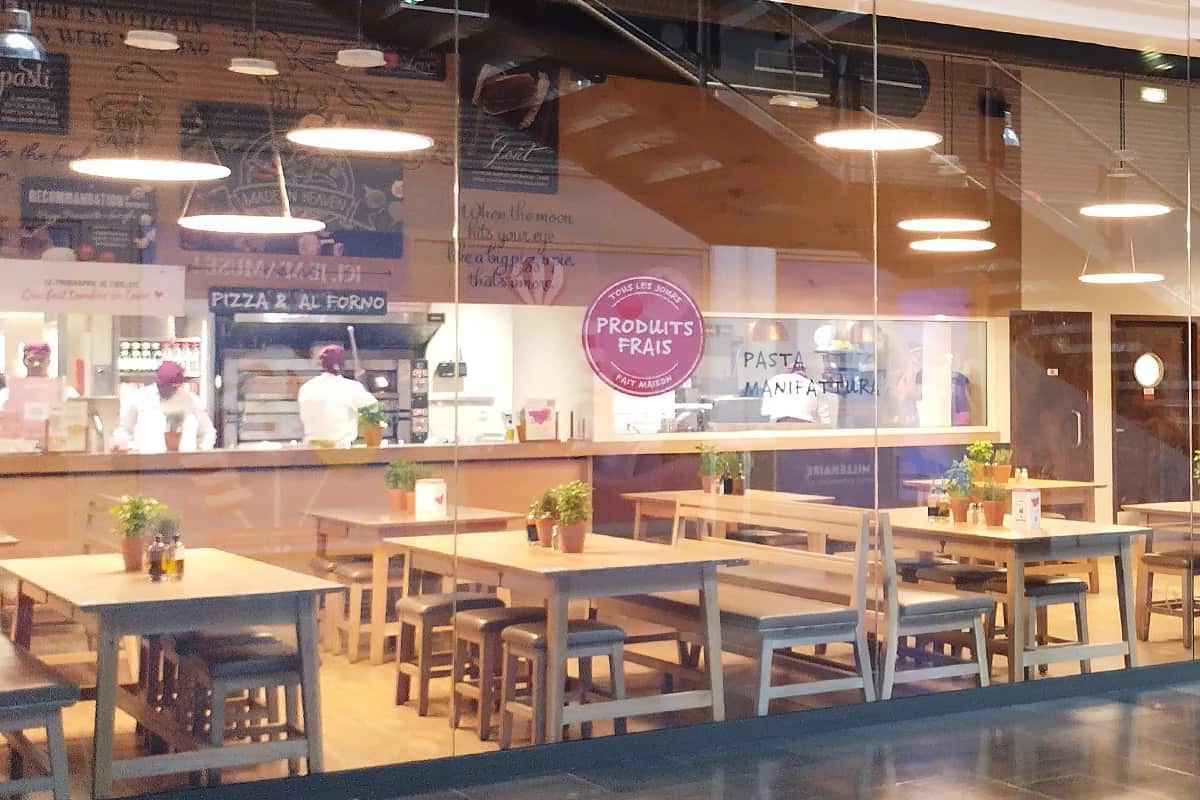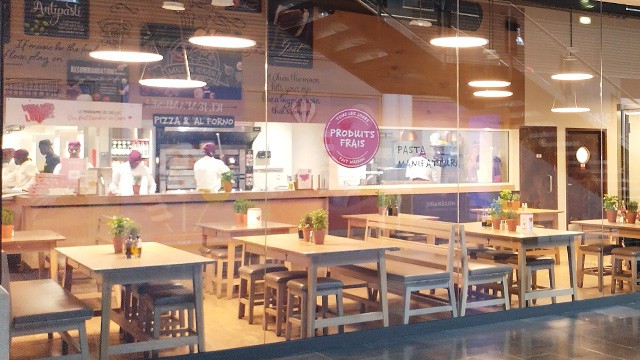 Discover Vapiano Italian restaurant in Le Millénaire shopping centre
Parking
Delivery
Takeaway
Wifi
Carte bleue
Cash
Tickets restaurants
Come and discover the flavours of Italy. All our pastas and pizzas are fresh, homemade and prepared every morning by our Vapianisiti.
Ciao !
VAPIANO : YOUR ITALIAN RESTAURANT IN AUBERVILLIERS
Fancy a good pizza, a tasty lasagna dish, a salad of fresh tomatoes with mozzarella and basil or any other Italian specialties, in a warm place near the Porte d 'Aubervilliers? Meet at Vapiano at Le Millénaire Shopping Center. During the week with your colleagues or at the weekend with family or friends, our Italian restaurant in Aubervilliers welcomes you in an elegant and spacious setting. The furniture of Vapiano Le Millénaire is in light oak, arranged around an olive tree, and the terrace overlooking the canal, as if you were in Venice, plunges you into the heart of Italy. By coming to us, you benefit from a fast service, on site or to take away, and you taste delicious Italian recipes.
DISCOVER ITALIAN GASTRONOMY IN OUR RESTAURANT AU MILLÉNAIRE IN AUBERVILLIERS
The Vapiano le Millénaire is a professional team that welcomes you in a warm atmosphere. It offers fresh and quality products. Indeed, in our restaurant at the Millénaire in Aubervilliers, the dishes are cooked before your eyes. Start with our salads or antipasti. Then choose our specialties of fresh pasta, risotto or pizzas with tomato sauce or fresh cream. Finally, crack on our Italian desserts, the dolci, like the famous tiramisu, the crema di fragola or the panna cotta. You will accompany everything with drinks or Italian wines.
HOW TO GET TO THE VAPIANO RESTAURANT IN AUBERVILLIERS?
Located in the heart of the Le Millénaire Shopping Center, your pasta restaurant in Aubervilliers and Italian cuisine, the Vapiano, is accessible from Porte de la Villette by boarding the the river shuttle made available to you free of charge. Before or after a movie screening at the UGC Ciné Cité Paris 19 or from the RER E station or the T3b Rosa Parks tram station, take the pedestrian bridge over the ring road that connects Paris to Aubervilliers. Le Millénaire is a few steps from the Fashion Center and 200 m from the Docks de Paris within the Magasins Généraux, served by the 239 bus. If you work or live in the north of Paris, in Saint- Denis or Aubervilliers, do not hesitate to come and savor or order your Italian meal